---
At homecall we provide what we consider the best support package available anywhere at a price that will not break the bank. Our repair service is carried out in your home or office removing the inconvenience of having to visit a remote workshop.
Our home call out service is only £35 which includes the first hour of labour costs, unless parts are required this is the entire cost of the repair. In the case of a repair which looks like it could take several hours the technition will often offer to return the system to our workshop to complete the repair, then return it to you at no additional cost. If you would like more information regarding our costs why not just call us to discuss.
We are able to fix over 90% of problems onsite first visit and usually in under an hour. In the event that the system does need to be returned to our workshop for testing in most cases a temporary loan system can be made available so not to impair your schedule too much during the repair period.
Our technicians are trained in all aspects of PC repair both hardware and software, upgrades or networking, there is no task beyond our means.
We build new desktops and PC systems to order and can provide network installation and maintenance we keep all the hardware in stock to avoid delays. Some examples of our many services are shown below.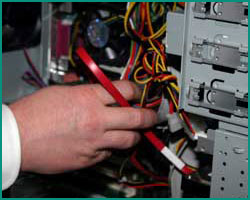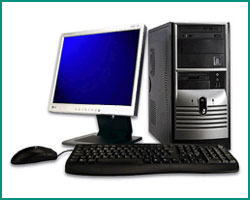 ---
PC Crashing or Freezing
IWhen your computer stops functioning as it should, we can be there to get you back on track. From the blue screen of death to programs exiting unexpectedly we have the knowhow and expertise to troubleshoot and resolve the problem.
Software Problems
The majority of problems reported with both home and business computers alike are due to software conflicts. This can range from faults caused by a simple upgrade of a application to the latest version or a new piece of Anti-Virus software has been installed, both these simple procedures can cause unexpected results and slow a computer down or stop it functioning all together.
Internet Problems
Is your internet not working as it should? Or do you simply need help to install you new cable or ADSL modem/router. Perhaps you have a slightly more complex issue and need to setup port forwarding or restrict access to your internet from unknown sources. All our technicians are fully trained in the latest internet technology at both home and business level.
Hardware Failures or Upgrades
Is your Laptop or desktop computer becoming a little long in the tooth? Feel its time for an upgrade? If this means you want a new computer or just want to replace the components which could be bottlenecking your system to get a new burst of life from it, we are the company to call. While we are a small company we have trade accounts with the one of the largest wholesale suppliers in the country, and so can almost always beat the high street retailers on value and always on customer service.
PC Not Booting
Will your computer not boot? Or perhaps will boot but only in windows safe mode? With over 20 years of experience we have the knowhow to get your computer back up and running without loss of data in a quick and efficient manner, and best of all we provide our service in your own home meaning you don't need to bring your computer to us.
Network Maintenance
Problems with an existing network? Or would like a new network installed? Regardless of if you have 250 workstations and a room full of servers, or if you just want to setup 2 computers to access the same wifi connection, we cover the whole spectrum. Our technicians are qualified to the latest Microsoft server technology, we don't take chances and neither should you.
Virus / Spyware Attacks
Every day computer virus and malware attacks become more and more common and sophisticated. It is a constant battle to keep ahead of the curve with new explains and attacks appearing on the internet everyday it's not surprising that even with the best Antiviral measures installed there will be rare occasions that something gets through, and when it does you can always rely on us to come and put things right.
Data Recovery
It has happened, the computers have taken over and now our lives are all computerised, how many people have switched from thick binders with hundreds of photos, instead to hard disks full of tens of thousands of images and videos of their family. Or keep all their documents on their laptop instead of stored in some tin in the attic. The convenience of our new lives is fantastic but when things go wrong and your computer loses or you accidently delete important pictures or documents we can be there to get these back.
Emergency 24/7 call out
We all have different priority's, and what you consider an emergency can be different to others. If things go wrong and you need to get your computer working at 3 in the morning, how many local companies will even answer the phone to you, I would say not many. We however will always be there for our clients, our emergency call out service runs 24 hours a day. If its important enough for you to need somebody out at crazy o'clock, we will be there to help.